Regulators
MegalockTM
Positive-Locking Damper Handle for 1/2″ shaft for rectangular blades and larger applications (18″ diameter blades and larger).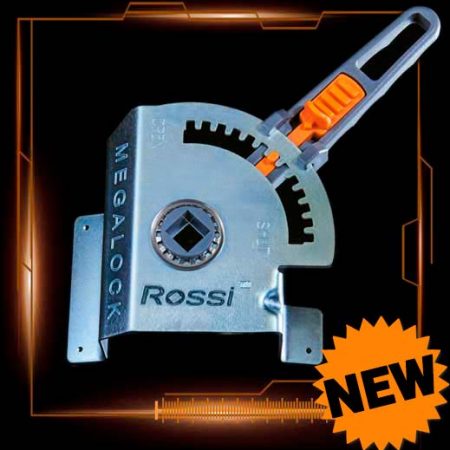 The original positive-locking regulator

Guarantees air flow stays balanced

Handle indicates true blade position

Single hand operation

Exerts no force on duct system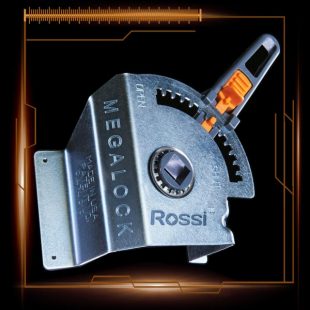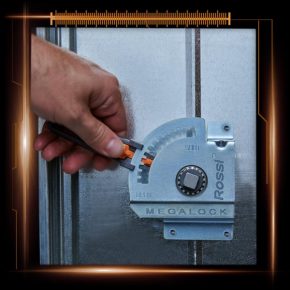 "Great customer service from start to finish. Placed an order recently with Rossi and they were really helpful and very knowledgeable."
Henry Nieves
EWC Controls | Englishtown, NJ
"This product is superior to others in this market – that's why they are all trying to copy it."
Art Morrell, CEO
Southerntier Custom Fabricators, Inc. Elmira, NY
"This has been wonderful for our business and we are genuinely grateful for the jump in our turnover. Our customers are stoked with the product and Rossi is one of our favorite suppliers."
Lucas James, Owner / Partner
LIMS Imports | Auckland, New Zealand
"We have had nothing but great customer service from the Rossi team and we really do appreciate that along with the great product Rossi provides to us. Your damper blades have decreased our install times for assembly and all of the crew appreciates the simplicity of the design."
Jeff Rydquist, Shop Superintendent / Purchasing
General Sheet Metal Works, Inc. | Clackamas, OR
"We have a customer that swears by the positive locking regulators. I think your positive locking regulators are extremely innovative."
Steve Copp, Owner
Plenums Plus | Chula Vista, CA
"We have been buying Rossi products for 30 years, and I appreciate the excellent quality and quick turnaround your entire team provides."
Richard Jones, Owner
Mina Corporation | San Francisco, CA
"I am very well pleased with your dampers. Wish I had known about these 30 years ago… I first used the wingnut types since that was all my suppliers offered. Never was too happy with them and you never really knew just what position you had them in because there is so much play in them… It is only recently that I discovered Rossi and use these dampers exclusively now. Thanks for a great product."
Michael Johnson, Owner
Atlantis Heating & Cooling | Decatur, GA
"Rossi damper hardware is easy to use and looks good installed. It is an economical alternative to use when making dampers for stainless and aluminum duct."
Mark Dunbar, Shop Superintendent
R & D Heating and Sheet Metal | Perry, OH
"Rossi Damper Hardware is quickly becoming the industry standard and preferred by our customers."
Darryl Oberholtz, Shop Manager
U.S. Engineering | Westminster, CO
"Our communication with Rossi is usually via email and this works well from ordering, to receiving the sales acknowledgments to shipping. Pretty happy with all."
Rita Olivarria, Purchasing
Superior Duct Fabrication | Pomona, CA
"Ever since we were introduced to Rossi damper hardware we were hooked. The damper hardware is of great quality and excellent design. We have been very pleased with the service and staff. Couldn't ask for more."
David Trammel, Purchasing
American Heating, Inc. | Portland, OR
"The Everlock's positive-locking regulator one hand operation is a real time saver for us when air flow balancing our duct systems."
Dave Coziahr, Owner
Coziahr Heating and AC Council | Bluffs, IA
"Rossi dampers are head and shoulders above the standard wing nut style dampers. They may cost a little more but when you consider the quality of the damper they are worth every penny!"
Brian Haley, CEO / President
Haley's Metal Shop, Inc. | Biddeford, ME
"Since we've been using Rossi products our customers can't stop raving about the dampers. Thanks."
Tom Atkinson, General Manager
Superior Sheet Metal | Hudson, NH
"I like Rossi's customer service. Anytime we have any questions or need anything, Rossi is quick to get back with us."
Lisa Robbins, Purchasing
Set Duct Manufacturing, Inc. | Detroit, MI
"Thank You for making such a great product! I firmly believe that using your dampers exclusively has set us apart from other sheet metal contractors in our area. When air balancing contractors find out we performed the work on a project ahead of them, they know they won't be wasting time looking for damper handles buried under insulation, or struggling to adjust an inferior quality regulator."
Tim Angelosanto, Vice President
Eastern Vent Systems, Inc. | Pelham, NH
"We love Rossi's simple, elegant and effective design of the damper. Will definitely incorporate your products from now on."
Hoc Hua, Principle
H-Square Mechanical | San Jose, CA
"Really impressive product. I wish we would have had it for years as it would have solved several balancing issues."
Byron Hughes, Sheet Metal Sales Rep
R.B. Akins Company | Oklahoma City, OK
"High Quality Products! Professional Customer Service!"
Jason Froats, Project Manager
Northern Mechanicals, Inc. | Norwood, NY
"A quality product at a lower cost that reduces shop installation time. When installed there are no tools needed for airflow adjustments. I have been buying these for 11 years now and am 100% satisfied. Great people to work with!"
Harvey LaFlamme, Sheet Metal Shop Foreman
Western Allied Mechanical, Inc. | Menlo Park, CA
"We are very pleased with the quality of the hardware we use from Rossi. It is very durable, very quick and easy to install on our products. We have been doing business with them for 10+ years, have had no issues with the product and they have always gone above and beyond if we ever have any issues. Great company with great products!"
Mike Graham, VP Operations / General Manager
Stamped Fittings, Inc. | Elmira Heights, NY
"From the moment I received the samples, I noticed the build quality and strength of the Rossi dampers far exceeded the traditional wing-nut and floppy dampers of old. Rossi is our pick when it comes to choosing the ultimate damper that will not disappoint, all at a competitive price."
Titus Prater, P.E., Mechanical Engineer
Core States Group | Rogers, AR
"I am glad we found Rossi Hardware. You have a quality product that is a time saver and our customers love them - they always ask for the orange handle damper quads. Thank you for being a part of Quicktin's team and helping us make a quality product for our customers!"
Derek Sorteberg, General Manager
Quicktin | Tacoma, WA
"Spinfinity uses Rossi products exclusively on our bellmouth and conical dampers, and the guys in the shop love how easy they are to install. Our customers like the Rossi Hardware for its ease of use in the field and its durability. Thanks for making such great products!"
Mike Mondalek, Outside Sales
Spinfinity | Algona, WA
"Rossi - high quality at a reasonable price. Also great friendly service."
Jimmy Wright, Owner
Wright Comfort Solutions | Hollis, OK
"Rossi Everlock technology has made adjusting dampers in our production process easy and eliminated slippage ensuring our flow rates are on point."
Nick Aaron, Maintenance Specialist
Viskase | Osceola, AR
"Top notch products and service!"
Bobby Smith, Production Manager
Dixie Metal Products | Memphis, TN
"I think it is safe to say that I am probably one of the oldest customers of Rossi and not one time have I ever had an issue with their Customer service or the quality of their product. The first time I saw their Rossi Dampers I knew we needed to start using them in our shop and we have saved many hours of fabrication time because they are so easy to install. Rossi is and has been over the years the best company I have ever had to deal with and I have been in the sheet metal trade for over 45 years."
John Welch, Sheet Metal Shop Superintendent
Harris | Bellingham, WA
"We have been using Rossi Hardware for over 2 years now and could not be happier with the product. The quality of the hardware is second to none and the knowledgeable and helpful staff make it even that much better of a product."
Don Glaicar, Project Manager / Estimator
Combined Mechanical Contractors Ltd. | Vernon BC, Canada